Jane's Defense, 11 December 2001

Gen Mikolashek takes US 3rd Army HQ to Kuwait

The headquarters of the US 3rd Army, commanded by Lieutenant General Paul Mikolashek, is being moved from its peacetime location at Fort McPherson in Georgia to a forward operating base in Kuwait.

HQ US 3rd Army serves as the forward-deployable element of US Army Forces Central Command (ARCENT) when designated by the Commander-in-Chief, US Central Command (USCINCCENT), currently General Tommy Franks.

Lieutenant General Paul Mikolashek has commanded the Third US Army and US Army Forces Central Command since 29 June 2000 after serving as Commanding General for United States Army Southern European Task Force since 30 September 1998.

An infantry officer, General Mikolashek was commissioned in 1969 and served in combat in Vietnam with the 1st Battalion, 12th Cavalry, and as an advisor with MACV Team 73. Since then General Mikolashek has commanded units at every level and has been employed in a number of high-profile staff appointments, including Chief of Operations and Contingency Plans Division, Headquarters, Department of the Army; and as the Assistant Division Commander, 82d Airborne Division. He has also served as Chief of the Office of Military Co-operation in Kuwait.

General Mikolashek's awards and decorations include the Defense Superior Service Medal, the Legion of Merit (two oak leaf clusters), the Bronze Star, the Defense Meritorious Service Medal, the Meritorious Service Medal (two oak leaf clusters), Ranger Tab, Master Parachutist Badge and Combat Infantryman Badge.

During the 1991 Gulf War the US 3rd Army's order of battle included two corps headquarters (the XVIII Airborne Corps and the VII Corps), with nine divisions under command including the 82nd Airborne, 101st Air Assault, 24th Infantry (Mechanized), 1st Infantry (Mechanized), 1st Cavalry, 1st Armored, 3rd Armored, 1st British Armoured, and 6th French (Light) along with two armoured cavalry regiments (the 2nd ACR and 3rd ACR). Third Army's mission during the war was to close with and destroy Iraq's Republican Guard.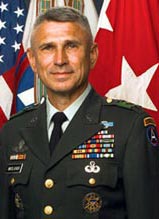 Commander of US 3rd Army Lieutenant General Paul Mikolashek.
Jane's Information Group Limited